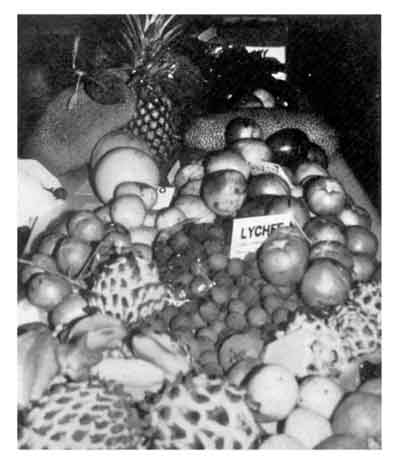 On the Sunday, 4th December, 1988, at 12 noon, the Mossman Branch of the Rare Fruit Council of Australia Inc. held their annual 'Fruit Fest' - a tantalising smorgasbord. The day turned out to be a lovely, partly-sunny day with cool breezes wisping by every so often.
The members spent the morning decorating the RSL Hall with coconut palms, many exotic flowers, and our President and Treasurer's young daughter arranged flowers in small vases for the well-spread-out, neatly-set tables in the spacious, airy hall.
Down the centre of the hall, the display table was placed. We always wonder if we will end up with a good display of fruit. The display of fruit was the best we have ever collected, and a list will follow.
Gay McDowall and the ladies were hired to cook and serve our main course. Gay is a fine cook and the food presentation was excellent. Gay named each dish with carefully written tags so everyone could decide whether to try each dish.
The Rare Fruit Council ladies, Mossman Branch, prepared the sweet dishes. The variety of sweets would make anyone go off any diet for the day.
Baskets of fruit were raffled at intervals. Pontin Mamey Sapote were auctioned by our auctioneer, Don Gray. Mrs Roger Goebel won the lucky ticket prize - a very large basket of fruit.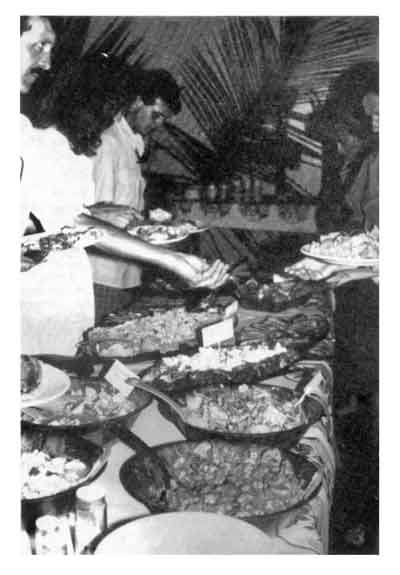 The proceedings for the day could not have gone more smoothly. Drinks made with sugar cane juice and lime juice, pineapple crush juice, and mamey sapote milk shakes were available during the dinner at no extra cost to the guests. Overall, the 'Fruit Fest' for 1988 could not have been better.
There are many to be thanked and all cannot be mentioned separately, as numbers prevent this. Lots of thanks to all members and friends who donated the fruit for the display, and many more thanks to all who helped set up the hall, and many more thanks to all the ladies who kindly donated and made the sweets for the day. And thanks to Gay McDowall and the ladies for making the day with the scrumptious main course.
Our scrumptious main course dishes were:
Fruit and Nut Pork (Jakfruit)
Chicken and Lychee
Mango and Coconut Fish
Braised Jakfruit and pawpaw (cummin)
Potato and Pawpaw Salad
Fresh Pineapple Salad
Chinese Salad with Lychee
Fruit Ambrosia with Mamey Sapote
We recommend that only variety 107 or 117 sugar cane be used for the juice, as many of the sugar cane varieties are too hard to go through the sugar juicer.

Listed below are the tantalising sweet dishes prepared by the Mossman Branch ladies.
Soursop Mousse
Ice creams - Mango, Soursop and Pawpaw
Black Sapote Banana Cream Pie
Dried Tropical Fruit Cheese Cake
Jak and Lemon Pavlova
Star Apple Pavlova
Malay Apple and Coconut tart
Rose and Coconut Jelly
Mango Custard Delight
Jakfruit Cheese Cake
Soursop Fancy Pie
Banana Caramel Tart

Star Apple Christmas Pudding
Mamey Sapote Raisin Pie
(Icecream bean) Inga with Apricot Centres
Yellow Sapote Custard Tart
Mamey Sapote Lime Cheese Cake
Black Sapote Delicious Pie
Ferronia Mousse
Soursop Cream Pie
Soursop and Lemon Slice
Canistel Custard Pie
White Sapote Christmas Cake
Listed below is the enormous variety of fruit we had on the display table.
Naranjilla
Pepino
New Guinea Bean
Barbados Cherry
Amazon Tree Grape
Short Inga Bean
Passion fruit
Thai Red Pawpaw
Rollinia
Coconut
Black Sapote
Soncoya
Akee
Jaboticaba
Bilimbi
Aqua Cherry
Quandong (Aust. native)
Macadamia Nut
Chempedak
Monsterio
Display Paradise Nut
Kuranda Nut
Lychee, Haak Ip, Taiso
Brazil Cherry
Malay Apple
Miracle Fruit
Psidium (relative to guava)
Mountain soursop
Maprang
Breadfruit
Gourd Bean
Cedar Bay Cherry

Konks (the original passionfruit)
Taro
Carambola
Mabolo
Papaya
Pomegranate
Marang
Mamey Sapote Pontin
Sapodilla
Soursop
Kiwi Fruit
Star Apple
Salak Palm Fruit
Rambutan
Civil Oranges
Pineapple
Giant Jakfruit (24 kg)
White Sapote
"Chris" White Sapote
Cocoa Pod
Pommelo
Peach Palm
Mons Marie Banana
Plantain
Keitt Mango
Cedar Bay Mango
Glen Mango
Haden Mango
Tommy Atkins Mango
Bowen Special Mango
Bael Fruit
Long Inga Bean
Abiu
How lucky we are to be able to grow all these fruits. A FRUIT FEST TO REMEMBER!