This article is written to reassure those brave, rare fruit pioneering souls in seemingly borderline climatic situations, whether in the southern states or in non-optimum places in Queensland. These positive people who had a go despite the knockers and succeeded to varying extents using scant information.
The following is a list of trees fruited in New South Wales, mainly Coffs Harbour at Richard Kutz's or Dave Callaghan's properties:
Akee
Ambarella
Guanabana (soursop)
Wax Jambu
Rollinia (also fruited well at Kempsey!)
Bell apple
Casimiroa (white sapote)
Miracle fruit (in hothouse)
Candlenut
Ilama
Feijoa
Carambolas (many varieties)
Downy myrtle
Chinese raisin
Kei apple
Rose apple
Pepinos
Litchee
Longan (some varieties)
Yellow mangosteen
Carissa (Natal Plum)
Santol (seedling)
Ice cream beans
Jaboticabas
(large and seedlings)
Mamey sapotes
Caimito (star apple)
Naranjilla
(thornless and thorny)
Mabolo/Velvet apple (juvenile, small grafted tree)
Grumichamas
(black and yellow)
Black persimmon
(black sapote)
Capulin cherry
Strawberry tree
Wampee
Jakfruits (varieties)
Kwai Muk
Pitaya cactus (delicious)
Canistels
Cherimoyas (varieties)
Pitanga (Brazilian cherry) some dark types
Barbados cherry (varieties)
Giant granadilla
Bunchosia
Sweet Jamaican Granadilla
(P. ligularis)
Sapodilla
Ramontchi (Governors Plum)
Monstera deliciosa
Ceylon Hill Cherry
Papayas (Reds and Yellow)
Sweet lilikoi passionfruit
Flowering and expected to fruit:
Abiu, Tamarind, Imbe (lonely - needs mate)
Danny Callaghan
---
WHO SAYS N. S. W. IS TOO COLD FOR RAMBUTANS?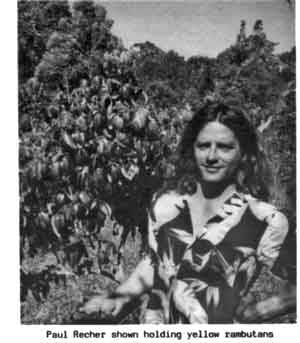 Hi!
Who says New South Wales is too cold for Rambutans?
This superb yellow variety is grown on Ralph Woodford's farm.
Eat your hearts out North Queensland!!!